Testamentary Charitable Remainder Unitrust: Have Your Cake and Eat it Too!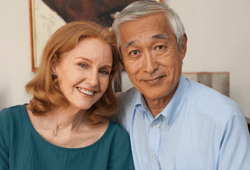 We have all heard the saying "Have your cake and eat it too." It's something we say when we can have more than one good thing at the same time. Mary and David Smith felt this pride when they gave to our organization and created a stream of payments for their family.

While working on their estate plans the Smiths were conflicted. They wanted to pass on their estate to their family but they also had a place in their hearts for our mission.

David: We were having a tough time determining how to best split our estate when we received a mailing from the Office of Gift Planning that sparked our interest.

The testamentary charitable remainder unitrust was a new concept to the Smiths.

David: I didn't realize that there was a way that we could stretch our assets so that we could accomplish both of our goals. We called the Office of Gift Planning and were amazed at how we could customize this plan to help both our family and charity.

The Smiths will be using their estate assets, including their retirement accounts, to fund a unitrust that will begin after their lifetimes. The trust will provide a steady stream of payments to their daughter and three grandchildren for a term of years and ultimately fund the work of our organization.

Mary: We are thrilled that we are able to use our accounts now, provide our family with payments and still be able to support of our favorite charitable causes.